The dosimeter-radiometer MKS-05 «Terra-P»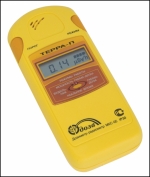 Price:
Why You Need to Buy "Terra P" for Your Tour to Chernobyl
If you have ever dreamed to behold in reality the real cyberpunk in the realm of post-apocalypses and you are brave and curious enough to visit the Chernobyl zone with our team of stalkers, then you are welcome!
Going along the circuit tours blazed by our guides you will feel the overwhelming power of the past that stands still as if time doesn't exist for it. You will be going by derelict wreckages of human civilization that look sinister and desolated.
If you found it in your heart to stalk along the Chernobyl zone routes, then you must keep in mind that such a trip requires some necessary equipment that will help you make it happen. All cloth must cover all your body. Shorts, dresses, and skirts are not allowed. Choose footwear with a sick sole. Have some water with you as well as something to eat. And the most important part of your equipment is electronics named "Terra P", developed for eco test and is highly recommended by our guides. The following information will give you a full detailed conception of what it is and why you need it in the Exclusion zone.
The Main Characteristics of the Dosimeter Radiometer MKS-05 "Terra P"
This budget-friendly device has been developed for radiological environment control, also for the definition of nuclear pollution of objects and radiation-absorbed dose for a user as well. This is the straightforward and easy appliance meant for evaluation of ionizing radiation background and radiological contamination of residential premises, household items, clothing, soil surface, and food.
Functionality:
Power measurement of equivalent exposure of gamma rays.
Measurement of an equivalent dose of gamma rays.
Evaluation of surface-level pollution by beta radioactive nuclides.
Clock and alarm clock.
Special Aspects:
Three independent measurement channels with successive readout.
"Terra P" designed for providing ecotest also has an integral beta and gamma responsive Geiger-Mueller counter tube.
Automatic selection of measurement increments and range limits.
Audio alert for each detected beta and gamma particle.
Programming of trigger thresholds of audio alert for gamma-radiation intensity.
Digital readout.
Two AAA batteries for current supply.
Indication of battery depletion.
Shockproof housing.
Light mass-dimensional magnitude.
Scope of Delivery:
Dosimeter-radiometer MKS-05 "Terra P".
Two AAA batteries.
Service manual.
Full-scale range and basic relative accuracy
Range limits of ambient dose equivalent rate of gamma rays (137 Cs)
µSv/h

0,1 — 999,9 (±25%)

Range limits of ambient dose equivalent of gamma rays (137 Cs)

mSv

0,001 — 9 999 (±25%)

Range limits of fluence rate of beta-particles (90Sr+90Y)
1/ (сm²*min)
10 — 100 000
Power range
Gamma rays and X-rays
MeV

0,05 — 3,0 (±25%)

Beta rays
MeV
0,5 — 3,0 (±25%)
Measurement time intervals
seconds
5 — 70
Battery duration
hours
6 000
Range of operating temperatures
°С
-10 — +50
Net weight
kg
0,15
Overall dimensions
mm
120×52×26
GO2CHERNOBYL — the Right Place to Buy MKS-05 "Terra P"
On our webpage, you can buy your own dosimeter radiometer MKS-05 "Terra P". You may take it with you while going on a trip to the Exclusion Zone. Or you can just use it in your everyday life to control radioactive pollution. If you have any questions concerning this device do not hesitate to chat with our manager online. You may also fill in a special form on our webpage and our representative will get in touch with you to answer all your questions concerning not only this dosimeter radiometer but also trips to Pripyat and Chernobyl, other merchandise, etc.