Respirator mask with exhalation valve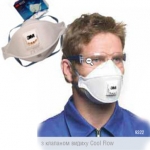 Price:
Characteristics
Respirator increased comfort with exhalation valve
Exhalation valve 3M Cool Flow significantly reduces the accumulation of hot air inside the respirator and comfort when working at high temperatures and humidity.
Trehpolosaya form of respirators increases their comfort, close fitting to the face and does not hinder communication. Due to the fact that the mask is formed, decreases the possibility of contamination prior to use and improves the ease of storage.