TOURS

CHERNOBYL ZONE

Visit the ghost town
and get your dose
adrenaline!
from the official organizer
SAFE | EXTREME | comfortable
Choose your tour

Click on the EXCURSION TO GET MORE information
Scheduled one-day excursion
The next trip:
INCLUDED IN THE PRICE:
From Kiev to the USSR and back in one day

Top 25 great locations of the Chernobyl zone

Full package of information from professional guides

Megacool photos are guaranteed

Dosimetric control
Scheduled two-day excursion
The next trip:
INCLUDED IN THE PRICE:
Two days in the Chernobyl zone

5 times more locations + secret objects

Information that you won't find on the Internet

Spend the night in the hotel of Chernobyl

Safety is guaranteed
FEEDBACK AFTER THE TOUR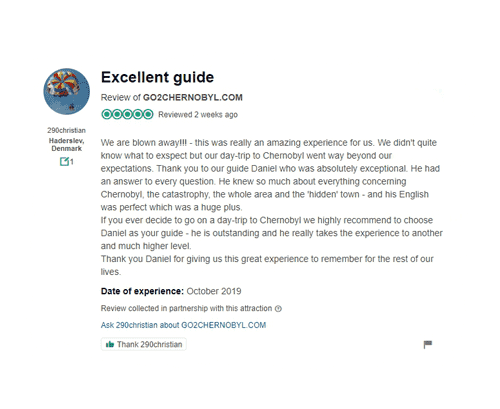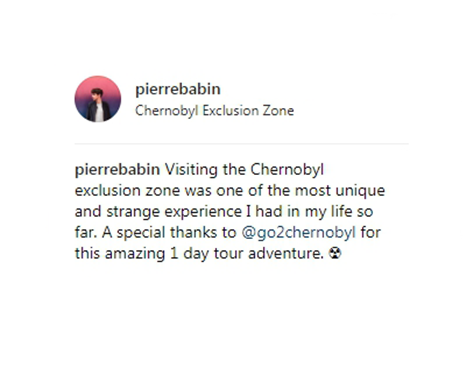 NEWS
20.11.2019
Radiation background
| | | | |
| --- | --- | --- | --- |
| ChNPP | 39 | μР/ч | |
| Pripyat | 87 | μР/ч | |
| Chernobyl | 17 | μР/ч | |
| Checkpoint Dityatki | 10 | μР/ч | |
| Kiev | 12 | μР/ч | |
| Moscow | 11 | μР/ч | |
| New York | 12 | μР/ч | |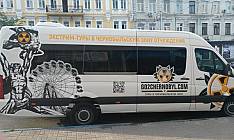 In the Chernobyl Exclusion Zone attacked a group of foreign tourists!
Chernobyl has always beckoned with its mystery and history of tourists of different ages and nationalities. Interest to the Exclusion Zone is growing every year and there are no less people wishing to visit this place. So it happened with a group of ...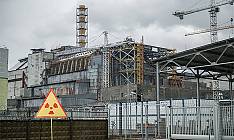 Miniseries from HBO and SKY and my impressions from what I just saw
Chernobyl is the name that is associated with the worst technological catastrophe in the history of mankind. But until April 26, 1986 at 1 p.m 23.58 this town "was a peaceful home" for thousands of people in the Soviet Union. Perhaps this ...
ANY QUESTIONS LEFT?

FILL IN THE FORM BELOW AND GET THE ANSWER
Chernobyl exclusion zone: would it be impressive to visit it?
The exclusion zone near Chernobyl has been no longer a closed territory. It is a place, where you can make an unusual and extreme trip. Bright emotions, extreme and unforgettable impressions are guaranteed during such trip. Chernobyl tours are made not only by desperate stalkers, but also by tourists who want to diversify their leisure time.
What is Chernobyl like today?
Why does this place attract tourists from all over the world? The exclusion zone is ghost towns, in which there are no inhabitants left. It is signs of the villages, where nobody lives anymore. And high-rise buildings, from which no laughter come, but only a dull echo... Chernobyl tour is a trip to the exclusion zone, which has suffered the most intense contamination with radionuclides, because of the catastrophe on CNPP that was recognized as the biggest in the history of nuclear power. After that, more than two hundred thousand people left their homes in order to never back there again.
Each of us has lots of questions and prejudices about the exclusion zone. Chernobyl tour, price for which in our company is much lower than in others, will open the veil of secrecy and will help to find answers to some of them. If follow the rules and listen to the guides, the trip to one of the most interesting and exciting locations on our planet will be quite safe.
Today, it is not a dead zone, there are workers who serve the station and sometimes it is possible to meet people on the streets. You can see the destroyed 4th reactor and "Shelter" above it from several angles.
In order to look at a really dead city, you need to go to Pripyat. It is better to not being separated from the excursion group here. It is abandoned houses, a deserted amusement park and a dilapidated stadium. Feeling from the walk in a dead city is hard to forget, this is what will remain with you for the whole life. Here, as nowhere else, you can feel the tragedy of the Chernobyl disaster.
Another interesting object is the mysterious "Duga", situated in the place of the former secret object. In Soviet times, it was built in order to receive signals about the launching of intercontinental missiles. This is a unique object — the only one that was saved in the world, the other two dismantled, but it impossible to do with the "Duga" in the exclusion zone.
Why should you entrust your trip to Go2chernobyl Company?
Chernobyl and Pripyat tour is not a walk through the chamomile field. It is important to entrust its organization and conduction to experienced professionals in order to, firstly, get the maximum benefit and pleasure, and secondly, not to be exposed to unnecessary danger.
Here are at least 5 reasons why should you choose Go2chernobyl for organizing your extreme travel:
We are organizing trips from Kiev to Chernobyl for more than 7 years. Not only Ukrainians take part in our trips, but also visitors from abroad.
Experienced guides. Chernobyl and Pripyat tour with a bad guide is money thrown away. Our guides are experienced professionals who know everything about the exclusion zone and even more. They will answer all questions with pleasure, tell secrets and mysteries, which others prefer to keep silent about.
Saturated excursion routes. We develop them in order to show you as many interesting places as possible. Chernobyl tour is a unique location in which you have never been. No wonder, that the "Forbes" magazine called it the most unusual place on Earth.
Best Chernobyl tours price on the market. We take care about making more convenient conduction of payments for you as well as planning your leisure time, only with us the prepayment of the tour is 25%. Chernobyl tours prices are formed taking into account your wishes and expectations.
We are working around the clock. Our guides are ready to answer all your questions 24 hours a day, 7 days a week.
How to plan your trip?
Chernobyl tours, price of which is much lower than in other companies on the market, are held regularly. You can choose one of the suitable options: a one-day or two-day tour as part of a group or an individual excursion with your friends or colleagues.
You will get a safe full-scale route to the most interesting places in the zone, many interesting facts and stories from the guide, the ability to take photos and videos. By choosing a two-day excursion, you will stay at a hotel in Chernobyl and visit secret objects.
Chernobyl tours price on an individual order is a bit higher, but you can participate in the preparation of the program for 1-5 days, get access to secret locations and information materials, you can take comments from employees, shoot videos, music clips and programs.
Pripyat tour with Go2chernobyl is guarantee of safety, comfort and extreme. And because of these three components, customers love us and recommend to their friends.